Looking for a better job? Try the Steve Jobs approach
|
Jobs! Jobs!  Jobs!   Work for someone?  Work in your own business!  This article caught my eye; about … "Looking for a better job? Try the Steve Jobs approach"!
I very much admired the man, as no doubt you did too.   I`m reprinting the whole article here.  Enjoy!
This article concerns the American scenario, but I believe it applies equally to all communities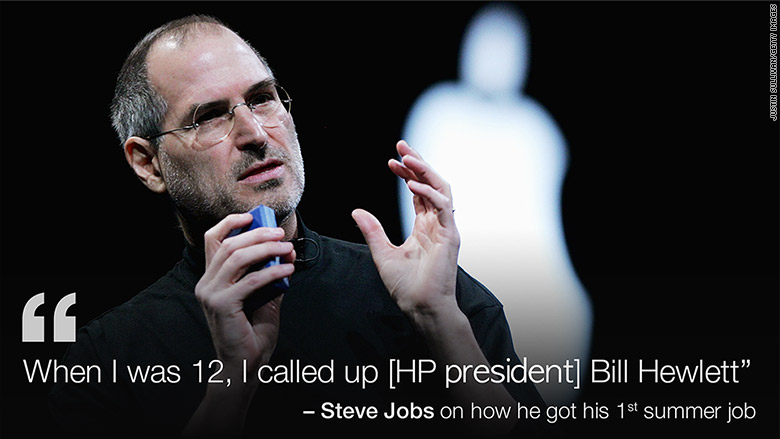 When young Americans complain they can't find a decent job, ask them a simple question: Who have you called or written to lately?
Steve Jobs is a legend for what he did at Apple (AAPL, Tech30). But even legends have to get their start somewhere.
For Jobs, it all began with a phone call.
"When I was 12, I called up Bill Hewlett," the president of Hewlett-Packard (HPQ, Tech30), Jobs said.
Join CNN Films for the TV premiere of "Steve Jobs: The Man in the Machine" on Sunday, January 3, at 9 p.m. ET on CNN and CNNgo.
Hewlett answered the phone himself, and Jobs recalled telling him: "Hi, I'm Steve Jobs. You don't know me, but I'm 12 years old, and I'm building a frequency counter and I'd like some spare parts."
The conversation lasted a few minutes. Hewlett gave Jobs the parts — and a summer job at HP.
"I'll never forget it as long as I live," Jobs said in a 1995 interview. It enabled him to see the first desktop computer ever made.
Related: The $100,000 job: Be an apprentice
Young Americans can't get the jobs they want
The problem now isn't so much that America's 20-somethings can't get jobs, it's that they can't get the jobs they actually want.
Over 44% of recent college graduates are underemployed, according to the New York Federal Reserve. That means that despite earning that college degree, they're working in jobs that don't require that qualification.
People who do a lot of hiring say 21 and 22-year-olds just don't get it. They fire off resumes online without much thought.
That's not how people who landed coveted jobs got them.
Just ask Mei-Mei Tuan and Andy McFee.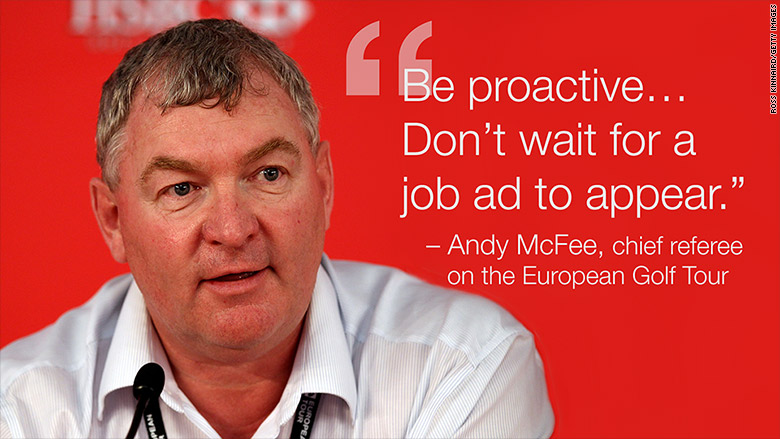 Related: The 100 best jobs in America
Aim high by reaching out to senior leaders
Mei-Mei Tuan is a Wall Street success story. She started at Goldman Sachs (GS) in New York and later moved to Bank of America (BAC) in San Francisco in the early days of project finance. Now she runs her own Wall Street firm, Notch Partners.
"Leverage the networks that you have," says Tuan. "You don't lose anything by shooting high."
As a junior at Wellesley College in 1987, she typed a letter (yes, on a typewriter) to Jeanette Loeb, the first female partner at Goldman Sachs who was also a graduate of Wellesley.
It was a brief letter, but it was sincere — and aimed at the top.
Loeb called her and invited her to come to New York to have lunch over spring break. The rest is history.
Tuan is now on the other side of the hiring wall as the co-founder of Notch Partners.
"For every person we hire, we probably look at 100 resumes," says Tuan.
The people who have stood out the most to her over the years are those who really took the time to learn about the company — and say how they could add value.
Two jobs candidates even came in with PowerPoint presentations about what they could do to help move Notch Partners forward.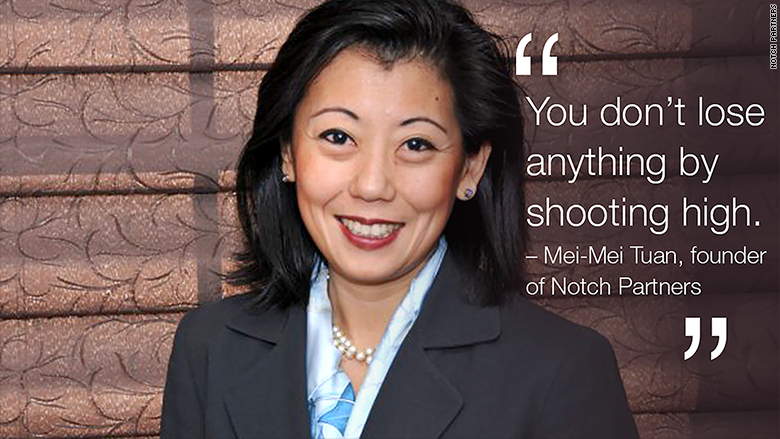 Related: America's big problem: Unskilled workers
Don't just wait for a job ad to appear
Andy McFee is another person who's been "really lucky" in landing a dream career. He's the chief referee on the European Golf Tour.
"I took a different path. I've been very very fortunate to watch a game I absolutely love right at the front seat," says McFee.
He's walked the world's greatest golf courses alongside Tiger Woods, Phil Mickelson and Rory McIlroy, among others.
For McFee, it all started with a speculative letter he wrote the summer of 1980 to the head of the British Professional Golf Association. He had just graduated from the University of Leeds .
"If you know there is something out there and you want to be a part of it, be proactive," says Andy McFee. "Don't wait for a job ad to appear."
In many ways, McFee was lucky. His letter landed on the desk of the head of the British PGA the very day someone else resigned. He recalls posting his letter on a Friday and getting a call on Monday to come for an interview.
But the point is he never would have gotten that call without writing the letter.
Standing out with a letter still works today
It's easy to claim the life stories of Steve Jobs, Mei-Mei Tuan and Andy McFee couldn't happen today.
But just because smartphones and emails have replaced typewritten letters doesn't mean that actually writing a smart missive or calling someone at the top isn't the way to go.
Matthew Ross is the author of the "brutally honest" cover letter that became famous on Wall Street in 2013.
When he wrote to an executive at Duff and Phelps to ask for an internship, he said he "won't waste your time inflating my credentials, throwing around exaggerated job titles, or feeding you a line of crap about how my past experiences and skill set align perfectly for an investment banking internship."
It worked. He got an interview, a summer internship and, later, a job at the company.
Standing out is more important than ever.
The reality is hundreds of people apply for any job posted online. There's a lot of competition. The New York Fed estimates there are 270,000 unemployed recent college graduates and about 2.3 million underemployed recent college grads.
"Apply to fewer jobs, but be more thoughtful about why you're applying and what you're going to say," recommends Tuan.
Source:  CNNMoney (New York) First published November 4, 2015: 8:33 AM ET